"As campers learned that they were capable of soldering their own contact microphones and amplifying everyday objects, you could see their soundmaking confidence and creativity expanding.  — Girls Rock New Orleans
A crucial mission.
Six years ago, acclaimed musicians Suzanne Thorpe & Bonnie Jones started TECHNE, a small arts organization with the big mission of broadening the voices heard in music, technology, and the world.
To this end, TECHNE designs and teaches workshops where female-identified women and young girls get hands-on experience with DIY electronics and music technologies, and use their newfound skills to express themselves creatively through improvised music. We call it Electronic Music: Powered by Girls!



In Electronic Music: Powered by Girls, students build their own electronic instruments from scratch, discover innovative sound-making techniques, and collaborate in fun group improvisations. (We also sneak in key audio and technology concepts, including an overview of the physics of sound, signal flow, and basic circuitry… Nerd girl alert!) After the workshop, the girls take home a unique, self-crafted instrument — and a new perspective on music-making and self-expression.
Through collaborations with Girls Rock Camps and community arts centers across the US and in Mexico, we've given workshops to hundreds of young women over the years, opening their eyes and ears to new skills and modes of expression.
But we need to do more. Here's our plan.
To amplify the number of young women who participate in our workshops, we are creating an online curriculum and teacher-training program called TECHNE Connect that will enable other artists and arts educators to teach our workshops.
The demand is high for challenging, engaging, and empowering arts & technology programming, but we can only teach so many workshops ourselves. TECHNE Connect will bring the needed tools to arts organizations and Girls Rock Camps in the US and abroad, who are excited to teach TECHNE workshops at their own venues.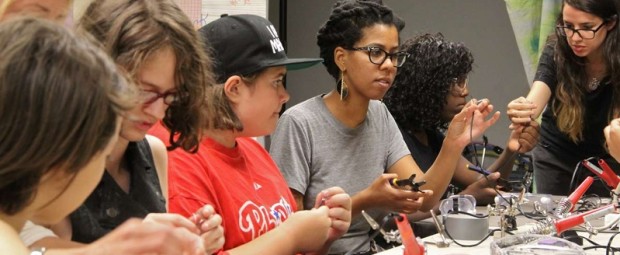 Will you help support our mission?
Your tax-deductible donation will help us create…
TECHNE Connect:
a downloadable toolkit
Step-by-step instructions on how to teach Electronic Music: Powered by Girls, plus equipment lists and resources, & logistical and tactical insights.
video tutorials
Video tutorials on "How to make a contact mic", "How to teach improvisation", and "Histories of Women in Electronic Music" etc.
an online database of sound artists and musicians
A database and networking site that connects local artists and teachers with venues interested in hosting TECHNE workshops.
A "Teach the Teachers" tour
TECHNE will host Teach the Teachers events, where would-be instructors learn the curriculum and pedagogical underpinnings of an EM:PG workshop firsthand, to prepare to teach the workshop on their own.
New workshops!
The continued development of exciting new workshops to add to our arsenal — like our recently-developed Flashlight Orchestras of DIY photo-theremins!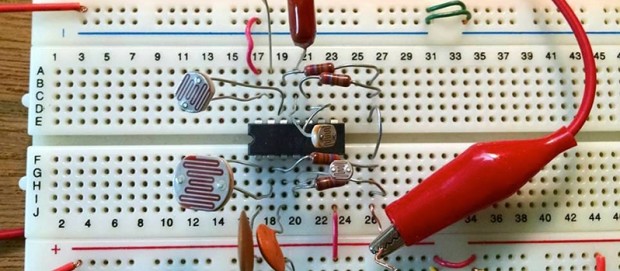 Our working budget below will give you a sense of how funds raised will be used. All your donations are tax-deductible through our fiscal sponsor High Zero Foundation.
"Toolkit" curriculum development / $2,500
Website design / $1,000
"Teach the Teacher's" tour travel costs / $2,000
Workshop instructor fees / $1,250
New workshop development & materials  / $1,000
Equipment updates / $1,250
Administrative/overhead costs / $1,000
If we don't meet our goal of $10,000, we'll be using whatever funds we receive towards new workshop development and a more modest version of our planned online teacher-training curriculum.
The world we live in.
There's a gender gap in the world. It's a fact that women are massively underrepresented in fields like technology, art, science, music, and business (not to mention government!)
Now more than ever, TECHNE's mission is to bridge that gap. We want to inspire young women to take that soldering iron, computer mouse or circuit board in hand and feel empowered! We want to be role models for young girls who are interested in alternative paths, but hesitate because of the lack of visibility of likeminded ladies.
But most of all, we want to inspire young women to think critically, experiment freely and discover their own voice.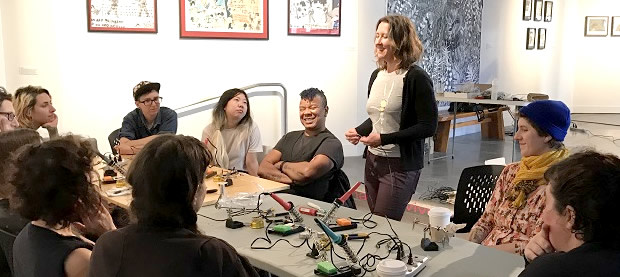 Our thanks.
Your donation will bring us one step closer to closing the gender gap in music and technology, and we know that is satisfaction enough!
But to thank you for your amazing support we've also sweetened the pot with some tokens of gratitude, including limited edition digital downloads, a TECHNE temporary tattoo, mystery gifts from the Diva herself, Diamanda Galás and an autographed copy of a book by Patti Smith! Perfect gifts for the sonic diva or noise goddess within!
Spread the word.
If you can't contribute, you can still help us enormously just by sharing our campaign through your personal networks! THANKS!
Donations will appear on your credit card from High Zero Foundation.